Make a fire successfully every time. Develop a deeper connection with fire.
When: New Dates TBC
Where:  Woodland Play Centre, Quantock Hills, Somerset
A day of deep discovery of the magic and practice of fire. Starting with practical the basics of what type of kindling and wood – you will learn how to light the fire with matches, steel spark and bow-drill and how to keep it going. We will also deepen our connection with Fire as an ally.
Successful fire-making is a mixture of common-sense, lots of practice, and a bit of science and magic thrown in for luck. Get the knowledge skills and confidence to make fire, again and again.
You will get the opportunity to further deepen your connection with Fire and yourself through a short fire quest.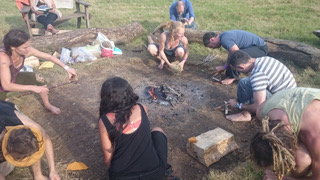 I'll be sharing my love and passion for good connection with Fire.
Who is it for: Women only for this date. Whether you are a complete beginner or just looking to take your fire-making to another level, this will be both a real hands-on day as well as deeper connecting experience.
Investment: Full price is £75  Concession £50.                                                                           Taught in a small group.
What other participants said:
" ..to be with good people, learning real and valuable skills, and deepening the connection with sacred fire was very nourishing". Ben Taylor, artist Mometo
" A brilliant day full of insight into the importance of our relationship with fire and practical information on how best to succeed when building and tending the hearth. Delivered in a gentle and helpful way by a guide with an obvious love and great knowledge of her subject.  Personally I'm feeling a much more spiritual connection with fire and and  more confident in my abilities  as a fire-keeper. Thank you Klaudia I will be recommending  your course to anyone who wants to deepen their connection with the natural world".   Árainn Hawker – Forest School Leader 
"Klaudia, thank you for a really inspiring, energising day – I'm feeling full of fire about the journey to light one with a bowdrill and gather kindling all year round…    Fiery wishes and ashy, aching knees,
"The day of learning to ignite my own fire was exciting and inspiring with Klaudia's added input of knowledge on this subject
I loved the introduction of organic fire utensils and the whole experience on this day
The location was perfect! Centred deep in the forest abyss, creating a feeling of freedom and wildness
I feel inspired to introduce the powerful ancestral element of fire into my life on a deeper level
Thank you Klaudia"
Also available as a full day of personal, private tuition and support £150. Get in touch if you are interested.